Comprehensive and practical introduction to the Dark Web

By passing the S-DWF certification exam and earning a SECO-DWF certificate, you demonstrate a solid understanding of the technology behind the dark web and the ability to find hidden sites and services using Tor.
During the Dark Web Foundation course you will also grasp the business dynamics of Dark Markets, and you will gain insight into Dark Web investigations through real-world incidents. Finally, you will get a thorough grounding in Bitcoin transactions, Bitcoin mining and Bitcoin laundering. The course draws on the practical experience of high-level cybersecurity experts and Dark Web researchers.
Who is this certification for?
IT and information security professionals with ambitions to get into Dark Web monitoring. Participants from law enforcement (police, justice, defence, fiscal authorities and investigators). Policy makers and government officials.
What are the benefits of this certification?
You will demonstrate a solid understanding of the dark web, insights into criminal activities on the hidden part of the web, an understanding of crypto currency used for money transactions, money laundering and more.
How can I position the S-DWF certification in the market?
The S-DWF certification is a beginner-level dark web certification.
What skills will I be able to validate with my SECO-DWF (S-DWF) certificate?
Please review the objectives section on the program outline page.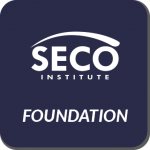 Once you are certified you will learn that SECO-Institute is more than just an examination factory. You will become a member of the (S)ECO-System. Supporting our members and lifelong learning, you will access 'Member Only' webinars and professional knowledge resources, obtain discounts on other trainings and events, and receive personal invitations for exclusive conferences, working groups and professional activities developed through our global partner network of other clusters and innovation projects.