Information Security Management Expert – SECO's flagship CISO certification

The S-ISME certification exam tests your real-world information security management skills. By passing the certification exam and earning a SECO-Information Security Management Expert (S-ISME) certificate, you demonstrate that you possess the top competencies of a successful information security leader.
SECO-Institute's Management Expert exams give you the opportunity to become an expert level certified professional.
Who is this certification for?
Experienced information security professionals looking to lead security in a CISO- or similar role. Existing CISO's with a technical background that want to learn more about the business, leadership and management side of security. Information security managers, information security officers, senior security consultants.
What are the benefits of this certification?
An S-ISME certificate demonstrates that you possess the knowledge and skills necessary to develop security strategies, guide a security team, and exert influence at the board level. This achievement will give you the confidence to assume a senior information security management role and provide leadership for your organisation.
How can I position the S-ISME certification in the market?
The S-ISME certification is an advanced information security certification.
What skills will I be able to validate with my SECO-ISME (S-IME) certificate?
Please review the objectives section on the program outline page.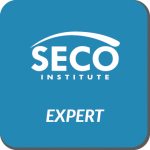 Once you are certified you will learn that SECO-Institute is more than just an examination factory. You will become a member of the (S)ECO-System. Supporting our members and lifelong learning, you will access 'Member Only' webinars and professional knowledge resources, obtain discounts on other trainings and events, and receive personal invitations for exclusive conferences, working groups and professional activities developed through our global partner network of other clusters and innovation projects.