S-BCF
Business Continuity Foundation certification
Business Continuity Foundation
About the certificate
Core business continuity skills you will validate with your SECO-BCF (S-BCF) certificate
By passing the BCF certification exam and earning a SECO-Business Continuity Foundation (S-BCF) certificate, you demonstrate your ability to
Understand business continuity management terminology and concepts;
Understand what focus areas a business continuity program needs to address to ensure appropriate protection against business continuity threats;
Describe the activities that form part of the business continuity planning process, from preliminary maturity assessment to testing and improvement;
Understand how an internal business continuity organisation is built up;
Grasp the fundamentals of developing a strategic business continuity policy;
Understand the basics of threat and vulnerability analyses and business impact analyses;
Recall the contents of a comprehensive business continuity plan;
Describe how business continuity tests are prepared, performed and evaluated.
What are the benefits of an S-BCF certificate?
An S-BCF certificate demonstrates that you have an overall understanding of the most important aspects of business continuity planning and management. If you are considering a career in business continuity or resilience management, S-BCF provides you with an excellent opportunity to enter the industry and advance your skills with higher-level continuity and resilience trainings.
The certificate is particularly suitable for facility managers, security professionals and quality officers seeking career advancement. If you work in a similar role, S-BCF may be your opportunity to take your first step towards becoming a business continuity manager, coordinator or consultant.
S-BCF also has benefits for information security specialists who need to collaborate with business continuity officers to provide the necessary coverage their organisation needs to remain functional in the face of threats. As a security specialist, your ability to perceive business continuity risks and liaise with business continuity teams will considerable improve your efficacy and may even open you to new career opportunities – for example, an information security & business continuity manager or corporate resilience officer position.
S-BCF is intended for all those who have a general interest in protecting their enterprise against threats and raising business continuity awareness across their organisation.
The course and the certificate are ideal for you, if
You are considering a career in business continuity, resilience management or disaster recovery;
You are a facility manager responsible for physical sites and the continuity of their internal operations;
You are an information security professional and you need to cooperate with a business continuity team to ensure that your organisation is well protected;
You are a start-up founder or an SME owner, and you need a solid game plan to deal with possible disasters;
You would like to enhance your value to employers by demonstrating a high degree of business continuity awareness.
How to prepare for the certification exam?
We offer classroom training through our accredited education partners. To find a course in your country, visit the Get Trained page.
Download a few Sample Exam Questions here  to see what types of questions you can expect at the certification exam.
Download the free Complete Sample Exam and Exam Syllabus at our member site to prepare even better. Use the syllabus to get a complete overview of the exam's topic areas, and use the sample exam to practice with more questions.
How to book a certification exam?
You can take your certification exam at an accredited exam centre or online.
For more information on the exam, please refer to the SECO Examination Guide.
S-BCF certificate and digital badge
Upon successful completion of a SECO-Business Continuity Foundation certification exam, you will receive an exam certificate. To turn your exam certificate into a verifiable qualification that can improve your career prospects,  you need to unlock your S-BCF certification title in the (S)ECO-System, our professional community. By unlocking your certification title, you acquire the right to add the professional designation "certified Business Continuity Foundation Professional" to your name. You also receive a secure digital badge you can add to your CV, LinkedIn or digital portfolio to verify your competence to employers, clients and the professional community.
Your SECO Foundation credentials will be entirely free of charge and valid for a lifetime.
Have you already passed the exam? Unlock your S-BCF title now to give your career a boost.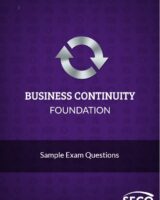 Download the free Complete Sample Exam and Exam Syllabus on our member website: