ISO 27001 Certified Implementer Certification
Learn to set up an ISO 27001-compliant Information Security Management System (ISMS)

By passing the ISO 27001 certification exam and earning a SECO- ISO 27001 Certified Implementer certificate, you demonstrate your ability to implement an Information Security Management System (ISMS) in line with the requirements of ISO/IEC 27001:2017.
Who is this certification for?
Information security professionals responsible for ensuring compliance to information security requirements, project managers and consultants involved with the implementation of an ISMS.
What are the benefits of this certification?
Mastery of ISO 27001 is a vital information security skill that can greatly improve your career prospects. Your certification will verify that you understand ISO 27001 requirements and can implement an Information Security Management System that provides assurance to your customers and supply chain.
What is the value of an ISO 27001 Certified Implementer certification?
ISO 27001 Certified Implementer is a practitioner-level information security certification focused on the implementation of an ISO 27001-compliant Information Security Management System. The certification is ideal for starting professionals aspiring to manage ISO 27001 projects. If you are looking to advance your career to (Chief) Information Security Officer, we recommend our  S-ISP (Information Security Practitioner) certification.
What skills will I be able to validate with my SECO-ISO27001 Certified Implementer certificate?
Please review the objectives section on the program outline page.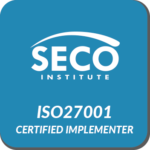 Once you are certified you will learn that the SECO-Institute is more than just an examination factory. You will become a member of the (S)ECO-System, our professional community. As a member, you will gain full support in your continuing professional development. You will have access to 'Member Only' webinars and professional knowledge resources, you will obtain discounts on other trainings and events, and you will  receive personal invitations for exclusive conferences, working groups and professional activities developed through our global partner network.