Core business continuity planning and management skills.

If you are considering a career in business continuity or resilience management, S-BCF provides you with an excellent opportunity to enter the industry and advance your skills with higher-level continuity and resilience trainings.
The certificate is particularly suitable for facility managers, security professionals and quality officers seeking career advancement. If you work in a similar role, S-BCF may be your opportunity to take your first step towards becoming a business continuity manager, coordinator or consultant.
S-BCF also has benefits for information security specialists who need to collaborate with business continuity officers to provide the necessary coverage their organisation needs to remain functional in the face of threats. As a security specialist, your ability to perceive business continuity risks and liaise with business continuity teams will considerable improve your efficacy and may even open you to new career opportunities – for example, an information security & business continuity manager or corporate resilience officer position.
An S-BCF certificate demonstrates that you have an overall understanding of the most important aspects of business continuity planning and management.
Who is this certification for?
S-BCF is intended for all those who have a general interest in protecting their enterprise against threats and raising business continuity awareness across their organisation.
What are the benefits of this certification?
Amongst other things you will gain a solid understanding of  business continuity management, grasp the fundamentals of developing a strategic business continuity policy and learn to describe how business continuity tests are prepared, performed and evaluated.
How can I position the S-BCF certification in the market?
The S-BCF certification is a beginner-level business continuity certification.
What skills will I be able to validate with my S-BCF certificate?
Please review the objectives section on the program outline page.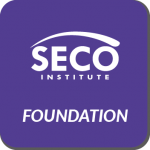 Once you are certified you will learn that SECO-Institute is more than just an examination factory. You will become a member of the (S)ECO-System. Supporting our members and lifelong learning, you will access 'Member Only' webinars and professional knowledge resources, obtain discounts on other trainings and events, and receive personal invitations for exclusive conferences, working groups and professional activities developed through our global partner network of other clusters and innovation projects.