Master all aspects of crisis management.

In this course, you will learn to master all aspects of crisis management, from organising the crisis management process and shaping your organisation's crisis plan to compiling internal and external crisis communications strategies. As you move along in the course, you will bring your crisis management and crisis communications skills to the highest level with complex exercises, case studies and crisis simulations. Having completed the course, you will return to work as a competent crisis management professional able to implement, manage and improve an enterprise-wide crisis management program.
Learn crisis management from practicing crisis managers;
Gain hands-on crisis management experience through realistic crisis simulations.
Crisis Management Expert (CME) takes you to the level of an internationally recognised crisis management expert.
Prerequisites
– A good understanding of information security management principles is required.
– SECO Crisis Management Practitioner certificate (or equivalent) is recommended.
Who is this certification for?
S-CME is intended for all those who are determined to continue their learning path all the way to becoming a crisis manager or crisis communications specialist.
What are the benefits of this certification?
You will demonstrate that you possess the knowledge and skills necessary to develop crisis management plans, crisis communications strategies, and guide an internal crisis organisation. You will gain the confidence to assume the role of a crisis manager or crisis communications specialist and provide crisis leadership for your organisation.
How can I position the S-CMP certification in the market?
The S-CME certification is a expert-level crisis management certification.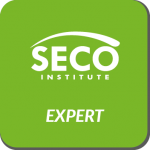 Once you are certified you will learn that SECO-Institute is more than just an examination factory. You will become a member of the (S)ECO-System. Supporting our members and lifelong learning, you will access 'Member Only' webinars and professional knowledge resources, obtain discounts on other trainings and events, and receive personal invitations for exclusive conferences, working groups and professional activities developed through our global partner network of other clusters and innovation projects.