Deep dive in Active Defense, Rapid Response, APT's, threat hunting, threat intelligence and incident response in a next generation SOC The Threat Analyst certification demonstrates that you have advanced knowledge and hands-on experience for a senior, pro-active defense role in a SOC or similar team at Tier level 2 or 3.
Who is this certification for?
Enterprise SOC-Teams, Managed Service and MDR- providers that want to set a baseline for their threat analysts. SOC Analysts, MDR Analysts, Threat Analysts, Threat Content Developers, Security Consultants, Incident Responders, security engineers and architects, red teamers going purple.
What are the benefits of this certification?
 If you are considering a career as a Threat Analyst then this is the certification for you. With this certification, you can work as a Threat Analyst Tier 2 and 3.
How can I position the S-TA certification in the market?
This is an advanced level certification and not suitable for early-career SOC Analysts. If you're looking for an entry-level course, we'd advise to have a look at the Associate SOC Analyst Training
What skills will I be able to validate with my S-TA certificate?
Please review the objectives section on the program outline page.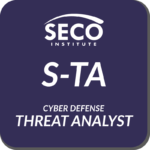 Once you are certified you will learn that SECO-Institute is more than just an examination factory. You will become a member of the (S)ECO-System. Supporting our members and lifelong learning, you will access 'Member Only' webinars and professional knowledge resources, obtain discounts on other trainings and events, and receive personal invitations for exclusive conferences, working groups and professional activities developed through our global partner network of other clusters and innovation projects.