S-DPP
Privacy & Data Protection Practitioner certification
About the certificate
Core data protection competencies you will validate with your SECO-PDPP (S-PDPP) certificate
The Privacy & Data Protection Practitioner certification exam covers a set of high-level data protection competencies that are essential for DPOs as well as any professional who seeks a career in privacy & data protection.
In particular, an S-PDPP certificate attests to your ability to:
Translate corporate goals and needs into a vision on handling personal data and build enterprise-wide commitment to data protection;
Draft and implement a strategic data protection policy in line with the GDPR's data protection principles;
Draft a GDPR-compliant privacy notice;
Create data inventories and data flow maps;
Perform a Data Protection Impact Assessment and identify appropriate organisational and technical measures to reduce data protection risks;
Incorporate data protection into business processes and projects;
Establish procedures for receiving and managing data subject requests and complaints;
Identify elements to include in a data processing agreement;
Implement a process for managing data processing agreements;
Document data breaches and draft a data breach procedure;
Create and maintain processing registers;
Translate 'privacy by design and by default' principles into policies and procedures;
Design a privacy awareness program;
Ensure compliance with the accountability principle through the use of monitoring tools and effective documentation;
Monitor the maturity of a data protection program and identify compliance gaps;
Design data protection reports that support good governance and decision-making;
Prepare for GDPR compliance audits and investigations by the supervisory authority.
What are the benefits of an S-PDPP certificate?
An S-PDPP certificate enables you to demonstrate the knowledge and skills employers look for in Data Protection Officers and privacy professionals. With data protection jobs on the rise and a severe shortage of data protection specialists worldwide, earning an S-PDPP title is a unique opportunity to launch and enjoy a rewarding career in a constantly expanding field.
Privacy & data protection careers – The GDPR has created a persistent demand for Data Protection Officers. In 2017, it was estimated that the new European Regulation would create a minimum of 75,000 DPO jobs worldwide. Consequently, research in 2018 showed that 92% of all companies preparing for GDPR-compliance were planning to appoint a DPO, even if not required by law. As GDPR-compliance is a dynamic process and digitalisation brings new privacy challenges, the demand for Data Protection Officers will only continue to grow. In parallel, as data protection evolves, new privacy and data protection roles emerge. Examples of new data protection job titles include GDPR tester, GDPR paralegal, data protection analyst and GDPR consultant.
IT and information security careers – Data protection skills are not only important for Data Protection Officers. According to ITJobswatch.co.uk, around seven percent of information security jobs advertised today specifically ask for a working knowledge of the GDPR. Examples include information security officers, IT security consultants, IT controllers, data architects and data managers.
The course and the certificate are ideal for you, if
You aspire to pursue a career as a Data Protection Officer, GDPR-consultant, privacy consultant or compliance officer;
You are an IT or information security professional and you wish to specialise in a privacy-related area of security;
You are an inexperienced DPO looking to structure your knowledge and gain more practice.
How to prepare for the certification exam?
We offer classroom training through our accredited education partners. To find a course in your country, visit the Get Trained page.
Download a few Sample Exam Questions here  to see what types of questions you can expect at the certification exam.
Download the free Complete Sample Exam and Exam Syllabus at our member site to prepare even better. Use the syllabus to get a complete overview of the exam's topic areas, and use the sample exam to practice with more questions.
How to book a certification exam?
You can take your certification exam at an accredited exam centre or online.
For more information on the exam, please refer to the SECO Examination Guide.
S-PDPP certificate and digital badge
Upon successful completion of a SECO Privacy & Data Protection Practitioner certification exam, you will receive an exam certificate. To turn your exam certificate into a verifiable qualification that can improve your career prospects,  you need to unlock your S-PDPP certification title in the (S)ECO-System, our professional community. By unlocking your certification title, you acquire the right to add the professional designation "certified Privacy & Data Protection Practitioner" to your name. You also receive a secure digital badge you can add to your CV, LinkedIn or digital portfolio to verify your competence to employers, clients and the professional community.
Have you already passed the exam? Unlock your S-PDPP title now to give your career a boost.
Your SECO Practitioner credentials will be valid for a year. To keep your Practitioner certification title and digital badge active, you will need to re-certify every year by paying a small annual maintenance fee (€75) and reporting at least 20 Continuing Professional Education (CPE) credits in the (S)ECO-System. As a certified member of the (S)ECO-System, you will also have opportunities to collect CPE credits by attending free webinars and accessing other professional knowledge resources.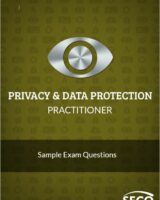 Download the free Complete Sample Exam and Exam Syllabus on our member website: