S-EHF
Ethical Hacking Foundation certification
About the certificate
Core ethical hacking skills you will validate with your SECO-EHF (S-EHF) certificate
Ethical Hacking Foundation equips you with the knowledge and skills you need to lay the foundations of a thriving penetration testing career.
By passing the EHF certification exam and earning a SECO-Ethical Hacking Foundation (S-EHF) certificate, you demonstrate your ability to
Hack a WEP-protected Wi-Fi network;
Use basic network sniffing and port scanning techniques;
Use web application vulnerability scanners (Dirb, Nikto and Vega) to find potential vulnerabilities;
Interpret the results of a basic vulnerability scan;
Run an automated SQL injection attack using SQLmap;
Crack a password hash with John the Ripper;
Brute-force a web-based login form;
Bypass client-side validation;
Use basic local file inclusion and remote file inclusion techniques to gain shell access and be able to execute commands on the system;
Perform a basic black-box penetration test.
What are the benefits of an S-EHF certificate?
An S-EHF certificate demonstrates that you have an in-depth understanding of basic penetration testing techniques, and that you possess fundamental hacking skills. If you are considering a career in ethical hacking or cybersecurity, S-EHF is a sure way to set yourself on the path to success.
This qualification is particularly suitable for IT professionals and aspiring information security specialists. If you work in IT or information security, S-EHF is your opportunity to take your first step towards becoming a penetration tester, a security analyst, or a security consultant.
The course and the certificate are ideal for your career advancement if you are a(n)
Systems, database, web or network administrator;
Web developer;
IT technician;
Security administrator;
Network engineer;
Computer software engineer.
How to prepare for the certification exam?
We offer classroom training through our accredited education partners. To find a course in your country, visit the Get Trained page.
Download a few Sample Exam Questions here  to see what types of questions you can expect at the certification exam.
Download the free Complete Sample Exam and Exam Syllabus at our member site to prepare even better. Use the syllabus to get a complete overview of the exam's topic areas, and use the sample exam to practice with more questions.
How to book a certification exam?
You can take your certification exam at an accredited exam centre or online.
For more information on the exam, please download the SECO Examination Guide.
S-EHF certificate and digital badge
Upon successful completion of a SECO-Ethical Hacking Foundation certification exam, you will receive an exam certificate. To turn your exam certificate into a verifiable qualification that can improve your career prospects,  you need to unlock your S-EHF certification title in the (S)ECO-System, our professional community. By unlocking your certification title, you acquire the right to add the professional designation "certified Ethical Hacking Foundation Professional" to your name. You also receive a secure digital badge you can add to your CV, LinkedIn or digital portfolio to verify your competence to employers, clients and the professional community.
Your SECO Foundation credentials will be entirely free of charge and valid for a lifetime.
Have you already passed the exam? Unlock your S-EHF title now to give your career a boost.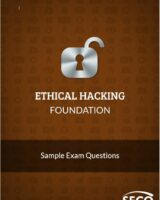 Download the free Complete Sample Exam and Exam Syllabus on our member website: