S-EHP
Ethical Hacking Practitioner certification
About the certificate
Core ethical hacking skills you will validate with your S-EHP certificate
The EHP certification exam tests your real-world penetration skills. By passing the exam and earning a SECO-Ethical Hacking Practitioner (S-EHP) certificate, you showcase your ability to
Demonstrate a good understanding of relevant laws and regulations and hacking ethics;
Determine the scope of a penetration test;
Use relevant testing guides;
Gather information using OSINT, WHOIS lookups and DNS lookups and enumeration;
Use manual and automated port scanning techniques and interpret scan results;
Perform service identification and fingerprinting;
Intercept and analyse network and DNS traffic;
Perform a Man-in-the-Middle attack;
Crack a WPA key;
Use basic hash cracking techniques;
Demonstrate a good understanding of the OWASP Top 10;
Scan web applications using Dirb, Nikto and Vega;
Perform cross-site scripting (XSS);
Brute-force HTTP authentication;
Use Man-in-the-Middle proxies;
Use SQL injection to extract usernames and passwords from a database;
Exploit SQL vulnerability to upload a web shell and gain control over the server;
Use Metasploit to gather information and exploit a vulnerable target;
Perform client-side attacks (file-type exploitation and drive-by downloads);
Exploit buffer overflows;
Perform a penetration test in a virtual environment;
Describe your findings in a clear and understandable way.
What are the benefits of an S-EHP certificate?
An S-EHP certificate demonstrates that you have a full understanding of the penetration testing process, and that you are familiar with common penetration testing techniques. This qualification enables you to establish yourself as an ethical hacking professional, and opens you to advanced development and career opportunities in the cybersecurity industry.
This qualification is particularly suitable for IT professionals and (aspiring) information security specialists who are actively working to become penetration testers, security analysts or security consultants.
The course and the certificate are ideal for your career advancement if you are a(n)
Systems, database, web or network administrator;
Web developer;
IT technician;
Security administrator;
Network engineer;
Computer software engineer.
How to prepare for the certification exam?
We offer classroom training through our accredited education partners. To find a course in your country, visit the Get Trained page.
Download a few Sample Exam Questions here  to see what types of questions you can expect at the certification exam.
Download the free Complete Sample Exam and Exam Syllabus at our member site to prepare even better. Use the syllabus to get a complete overview of the exam's topic areas, and use the sample exam to practice with more questions.
How to book a certification exam?
You can take your certification exam at an accredited exam centre or online.
For more information on the exam, please refer to the SECO Examination Guide.
S-EHP certificate and digital badge
Upon successful completion of a SECO Ethical Hacking Practitioner certification exam, you will receive an exam certificate. To turn your exam certificate into a verifiable qualification that can improve your career prospects,  you need to unlock your S-EHP certification title in the (S)ECO-System, our professional community. By unlocking your certification title, you acquire the right to add the professional designation "certified Ethical Hacking Practitioner" to your name. You also receive a secure digital badge you can add to your CV, LinkedIn or digital portfolio to verify your competence to employers, clients and the professional community.
Have you already passed the exam? Unlock your S-EHP title now to give your career a boost.
Your SECO Practitioner credentials will be valid for a year. To keep your Practitioner certification title and digital badge active, you will need to re-certify every year by paying a small annual maintenance fee (€75) and reporting at least 20 Continuing Professional Education (CPE) credits in the (S)ECO-System. As a certified member of the (S)ECO-System, you will also have opportunities to collect CPE credits by attending webinars and accessing other professional knowledge resources.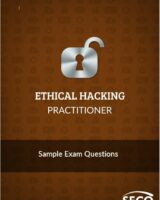 Download the free Complete Sample Exam and Exam Syllabus on our member website: