SOC | S-ITSE
SOC | IT-Security Expert certification
About the certificate
Core SOC Analyst competencies you will validate with your SECO-ITSE (S-ITSE) certificate
The IT-Security Expert certification exam covers a set of industry-established competencies that are essential for aspiring SOC Analysts.
By passing the ITSE certification exam and earning a SECO-IT-Security Expert (S-ITSP) certificate, you showcase your ability to:
Demonstrate an in-depth understanding of SIEM, Splunk, IDPS, security analytics, SOAR, EDR, NTA, TIP and vulnerability scanners;
Provide direction and consultation on log collection and log monitoring (define data gathering strategies, develop an effective pattern management strategy, set up and configure log monitoring/analysis, analyse log collections and evaluate the findings);
Identify and detect network and infrastructure security threats (recognise network and infrastructure security threats and analyse the environment to identify all security threats);
Analyse basic network and infrastructure security threats;
Report on the severity of threats and provide advice for remediation using adequate reporting techniques;
Adequately respond to basic network and infrastructure security threats.
What are the benefits of an S-ITSE certificate?
An S-ITSE certificate demonstrates that you have acquired the knowledge and skills necessary to assume responsibility for threat detection, analysis and response, and that you are able to use your skills to improve your organisation's overall security posture. In the possession of this qualification, you will be able to benefit from abundant career opportunities in government and public-sector Security Operations Centres. The certificate also has benefits for you if you are considering further advancing your career and working your way to SOC Manager.
This course is intended for IT- and Security professionals either early in their SOC- career or new to working in a SOC, that want to become a Tier 1/Tier 2 SOC Analysts and work in a dedicated team of cybersecurity
experts to detect, contain and remediate IT threats.
This includes IT experts, system engineers, security analysts, incident investigators, security engineers and architects.
The training also benefits security managers* keen to learn how to successfully build and manage efficient SOC Operations based on a more solid and practical understanding of its working.
As a general guideline we advise a maximum of 2 years' experience in a SOC environment. When in doubt, have a look at the course modules and / or connect with us for advice.
How to prepare for the certification exam?
We offer classroom training through our accredited education partners. To find a course in your country, visit the Get Trained page.
Download a few Sample Exam Questions here to see what types of questions you can expect at the certification exam.
Download the free Complete Sample Exam and Exam Syllabus at our member site to prepare even better. Use the syllabus to get a complete overview of the exam's topic areas, and use the sample exam to practice with more questions.
How to book a certification exam?
You can take your certification exam at an accredited exam centre or online.
For more information on the exam, please refer to the SECO Examination Guide.
S-ITSE certificate and digital badge
Upon successful completion of a SECO SOC | IT-Security Expert certification exam, you will receive an exam certificate. To turn your exam certificate into a verifiable qualification that can improve your career prospects,  you need to unlock your S-ITSE certification title in the (S)ECO-System, our professional community. By unlocking your certification title, you acquire the right to add the professional designation "certified IT-Security Expert – SOC Analyst" to your name. You also receive a secure digital badge you can add to your CV, LinkedIn or digital portfolio to verify your competence to employers, clients and the professional community.
Have you already passed the exam? Unlock your S-ITSE title now to give your career a boost.
Your SECO Expert credentials will be valid for a year. To keep your Expert certification title and digital badge active, you will need to re-certify every year by paying a small annual maintenance fee (€75) and reporting at least 40 Continuing Professional Education (CPE) credits in the (S)ECO-System. As a certified member of the (S)ECO-System, you will also have opportunities to collect CPE credits by attending free webinars and accessing other professional knowledge resources.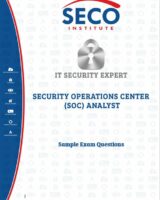 Download the free Complete Sample Exam and Exam Syllabus on our member website: