S-ITSP
IT-Security Practitioner certification
About the certificate
Core IT security skills you will validate with your SECO-ITSP (S-ISF) certificate
The ITSP certification exam tests your real-world IT security skills. By passing the certification exam and earning a SECO-IT-Security Practitioner (S-ITSP) certificate, you demonstrate that you possess the top competencies of a successful IT security professional.
In particular, an S-ITSP certificate attests to your ability to:
Translate relevant legal, regulatory and standard requirements and industry-best practices to a company-wide cybersecurity framework;
Handle security incidents in line with incident management best practices, with special regard to the European Union Agency for Network and Information Security (ENISA) Good Practice Guide for Incident Management;
Demonstrate an in-depth understanding of switches, routers, gateways, firewalls and intrusion detection systems;
Design a secure network architecture;
Apply basic Windows and Linux hardening techniques;
Develop an implement a patch management policy;
Demonstrate an in-depth understanding of application vulnerabilities and apply basic application hardening techniques;
Identify security measures to counter the OWASP Top 10;
Apply encryption to protect communications, file systems and files;
Implement role-based access control;
Use penetration testing tools to access a system and exploit an SQL injection vulnerability
What are the benefits of an S-ITSP certificate?
An S-ITSP certificate enables you to demonstrate core technical competencies employers look for in IT security professionals: vulnerability management, incident management, firewall and network security, security architecture and penetration testing– and all that combined with management skills and business insights. This unique combination will allow you to assume a more senior security role, or continue your learning path to becoming a high-level security specialist.
The course and the certificate are ideal for you, if
You are a security administrator, analyst, architect, auditor or consultant, and you are looking to transition to an IT security management role;
You are planning to continue your IT security learning path all the way to becoming a Security Operations Centre (SOC) Analyst;
How to prepare for the certification exam?
We offer classroom training through our accredited education partners. To find a course in your country, visit the Get Trained page.
Download a few Sample Exam Questions here to see what types of questions you can expect at the certification exam.
Download the free Complete Sample Exam at our member site to prepare even better. Use the syllabus to get a complete overview of the exam's topic areas, and use the sample exam to practice with more questions.
How to book a certification exam?
You can take your certification exam at an accredited exam centre or online.
For more information on the exam, please refer to the SECO Examination Guide.
S-ITSP certificate and digital badge
Upon successful completion of a SECO IT-Security Practitioner certification exam, you will receive an exam certificate. To turn your exam certificate into a verifiable qualification that can improve your career prospects,  you need to unlock your S-ITSP certification title in the (S)ECO-System, our professional community. By unlocking your certification title, you acquire the right to add the professional designation "certified IT-Security Practitioner" to your name. You also receive a secure digital badge you can add to your CV, LinkedIn or digital portfolio to verify your competence to employers, clients and the professional community.
Have you already passed the exam? Unlock your S-ITSP title now to give your career a boost.
Your SECO Practitioner credentials will be valid for a year. To keep your Practitioner certification title and digital badge active, you will need to re-certify every year by paying a small annual maintenance fee (€75) and reporting at least 20 Continuing Professional Education (CPE) credits in the (S)ECO-System. As a certified member of the (S)ECO-System, you will also have opportunities to collect CPE credits by attending webinars and accessing other professional knowledge resources.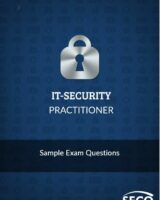 Download the free Complete Sample Exam on our member website: