The (S)ECO-system provides you with networking opportunities and safeguards the value of our certifications by encouraging and stimulating continuing professional development. By becoming a member of our (S)ECO-system and using a SECO title, you demonstrate to employers and fellow professionals that your competence is up to date.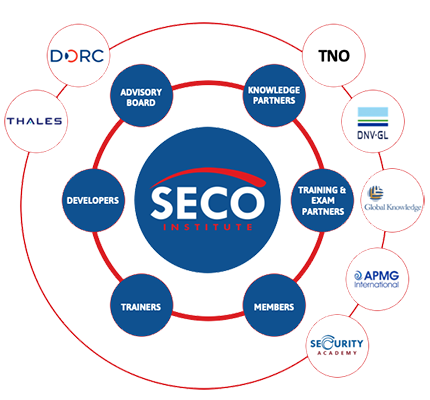 The (S)ECO-system stimulates professional development and encourages the exchange of knowledge and best practices. As a member of the (S)ECO-system, you will have numerous opportunities to continue your professional development:
Career path to your desired job: We offer practical certification courses (Foundation, Practitioner and Expert) in 7 interrelated domains of security and continuity.
As a SECO title holder, you will get a 20% discount on all SECO-Institute online courses and course books. Use your membership to benefit from the highest-quality trainings at a reduced price and add a new expertise to your profile.
Permanent professional education: The (S)ECO-system gives you several possibilities to develop and keep your knowledge up to date. The SECO-Institute and its partners regularly organise webinars, lectures and sessions that explore specific topics.
Knowledge base: Being an independent body of knowledge and the owner of the Cyber Security & Governance Certification Program, we work together with renowned centres of expertise such as the Netherlands Organisation for Applied Scientific Research (TNO) and DNV GL. These organisations make their latest scientific knowledge available to our members. In our knowledge base, you will find various useful information sources that will contribute to your professional development.
Network of peers: By becoming a member of the SECO community, you will connect yourself to an extensive pool of knowledge and expertise. Our community is a network of worldwide members, certified trainers, course developers and top-level industry experts who act as our advisory board. We listen to our members' needs and ambitions, and we facilitate the exchange of knowledge and best practices across our community.
What benefits will you gain from your SECO-membership? 
You will be entitled to use your SECO certification title and digital badge in your signature and LinkedIn profile.
You will access valuable extras and steep discounts on other SECO professional development courses.
You will expand your professional network by connecting with experts and fellow SECO title holders.