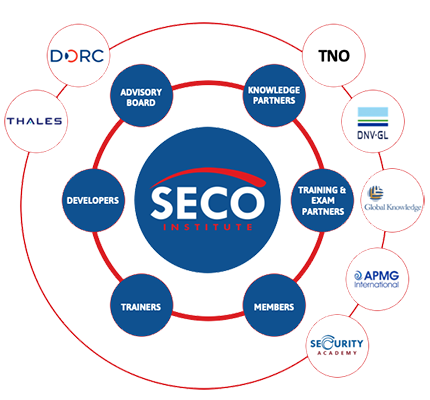 The SECO-Institute has invested in an unique (S)ECO-system which enables us to develop high quality courseware, exams and to offer highly qualified training through our worldwide partner network. In our (S)ECO-system, we defined the following essential elements:
Knowledge Partners
Being an independent body of knowledge for the Cyber Security & Governance Certification Program, we work closely together with renowned centers of expertise such as TNO and DNV GL. Together with them, we develop specialized courseware like the Dark Web Foundation and the ISO 27001 Certified Implementer.
Training & Exam Partners
We are committed to deliver the highest quality of training through established local partners worldwide. These partners are being selected and screened before we start our cooperation. We're proud to work with strong partners such as Global Knowledge, the Security Academy and the independent exam organisation APMG.
Members
Through our extensive network of worldwide members, we stay in touch with our target audience by listening to their needs and ambitions.
Trainers
We work with, and learn from, certified trainers who all are practicing what they're teaching. You can only become a certified trainer when you passed the screening and showed that you're an expert and a good teacher.
Developers
Our courseware and exams are developed by our own inhouse team of experts and a number of external specialists. Also, our Knowledge Partners develop courseware for specialized topics.
Advisory Board
SECO-Institute has become Europe's leading institute within only a few years' time. We're ambitious organisation and growing fast and in order to achieving our goals, we founded an European Advisory Board.
Our Advisory Board consists of some of the most respected names in business from across our target markets. The strength of our Board is a testament to our strong network and commitment to delivering excellence.