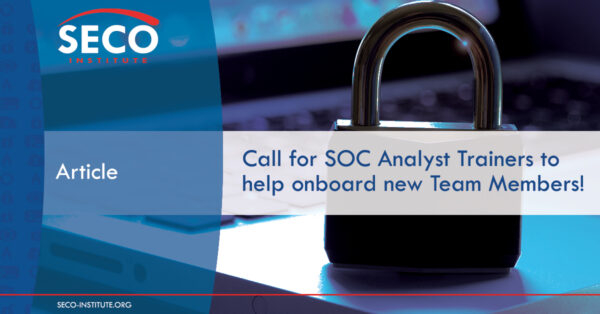 Are you a senior security operations afficionado with in- depth knowledge and hands on skills in SOC activities, technologies deployed; and extensive knowledge about attacker techniques? A strong communicator with an open personality, willing to share your knowledge and skills to help SOC Teams onboard new team members and support aspiring analysts to land and start their Analyst job with confidence? You may want to consider becoming a SECO- Institute certified trainer!
We're running a 3 day Online Train the Trainer session in November. Connect with us here and we'll send you the detailed information.
Who are we looking for?
SECO offers its SOC Analyst training globally, so there's no geographical restrictions.
We're open to getting to know both freelance senior consultants as well as senior Analysts and Managers part of a current SOC- Team. The trainer requirements are not written in stone, and we're also open to trainers that can deliver specific modules only, but as a general guideline we expect you to have at least 5 years of experience working in security operations centers in a senior role, with extensive knowledge of:
SOC Activities
Security analysis
security monitoring
threat intelligence
security incident response.
Knowledge of threat hunting and (malware) forensics is preferred
SOC technologies
SIEM systems
Threat Intelligence Platforms
Security Incident Response systems
SOAR solutions
Intrusion detection systems
Network traffic analysis systems
End-point detection and response systems
Extensive knowledge about attacker techniques, Including but not limited to:
Stenography
Command and control
Lateral movement
Network attacks
Data exfiltration
Malware
Mobile code
Hashing and encryption
Persistent threats
System exploitation
Interested?
Please fill out the contact form here and we'll be in touch with you shortly. It would help if you would include your resume or at least a short description of your relevant experience. You can also contact Wim Stoffelen directly via email : wim (dot) stoffelen (at) seco-institute (dot) org. We're looking forward to speak with you!