Your learning path to becoming a Certified Crisis Management Officer (CCMO)
Crisis Management Certification track
A crisis can strike any organisation anytime and anywhere. No organisation is crisis-immune. But while some organisations suffer irreparable damage during a crisis, others manage to keep their reputation intact and their customers loyal in the face of any adverse situation. What is their secret?
Our Crisis Management Certification track is a four-level certification program developed by experienced crisis managers and tailored for those who aspire to develop effective crisis management and crisis communications strategies to protect their organisation against the adverse effects of a crisis.
From Foundation to Expert level, the program addresses all the core competencies you need to establish yourself as a crisis management professional and succeed at the highest levels of crisis management and crisis communications. As you evolve through the certification levels, you will gain in-depth knowledge of crisis management best practices, and you will develop real-world crisis management and crisis communication skills in a simulated business environment. Ultimately, you will become a Certified Crisis Management Officer able to implement and improve an enterprise-wide crisis management program.
From Foundation to Expert, each certification level comprises a practice-oriented training course and a certification exam.
Each certification exam tests the knowledge and industry-established competencies covered in the corresponding course.
Attending a course is not a prerequisite for taking a certification exam.
Crisis Management Foundation is an entry-level course designed to provide you with a strong basic knowledge of crisis management planning. Following this course, you will understand the fundamental principles of crisis management and crisis communications.
By earning a SECO-Crisis Management Foundation (S-CMF) certificate, you demonstrate a high level of crisis management awareness and an in-depth understanding of crisis management terminology, concepts and principles.
Crisis Management Practitioner prepares you for the practical implementation of crisis management principles and leadership. In this course, you learn how to handle a crisis and how to communicate with internal and external stakeholders during a crisis situation.
A SECO-Crisis Management Practitioner (S-CMP) certificate validates your ability to set up an internal crisis organisation, draw up a basic crisis management plan, and compile a basic crisis communications strategy.
Crisis Management Expert (CME) was developed for professionals with ambitions to become a crisis manager or a crisis communications specialist.  The course equips you with the knowledge and skills you need to develop, implement and improve complex crisis management and crisis communications strategies, and provide leadership during crisis situations.
A SECO-Crisis Management Expert Certificate (S-CME) attests to your ability to design, implement, monitor and improve an enterprise-wide crisis management program and assume ultimate responsibility for internal and external crisis communications.
Certified Crisis Management Officer is a step above Crisis Management Expert. In addition to an excellent understanding of crisis management principles and practices, SECO-Certified Crisis Management Officers (S-CCMO title holders) must demonstrate experience in designing, implementing and operating an enterprise-wide crisis management program.
To qualify for a Certified Crisis Management Officer certificate, you need to have expert knowledge of crisis management and at least three years of work experience in a crisis management role.
If you already have a high-level crisis management certificate and the required work experience, and you would like to enhance your profile with an internationally recognised credential, you can apply for your S-CCMO title here:  [email protected]
The certificate will be awarded upon a thorough assessment of your CV and professional achievements. Professional achievements may include completed crisis management projects, training activities and publications.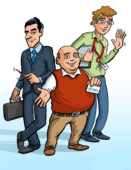 Bicsma is a fictive beverage manufacturer, a unique simulated company environment created by the SECO-Institute to bridge the gap between theory and practice. Bicsma allows us to put our stories in an authentic context, to challenge our students' problem solving skills, and to enrich our material with appealing images. Bicsma has a website, an intranet, an information security policy, a group of employees with little to no security awareness… and, most importantly, very diverse problems you can solve by employing your knowledge, talent and creativity.