S-ISP
Information Security Practitioner certification
About the certificate
Core information security management skills you will validate with your S-ISP certificate
By passing the ISP certification exam and earning a SECO-Information Security Practitioner (S-ISP) certificate, you demonstrate high-level, industry-relevant information security management skills.
In particular, an S-ISP certificate attests to your ability to:
Understand the security threat landscape (attackers, attack tools, attack methods and trends);
Understand legal and regulatory requirements relevant to information security (with special regard to the GDPR);
Align information security goals and objectives with corporate goals and needs;
Plan an organisation-wide information security management system (ISMS) in accordance with ISO 27001 and other relevant security standards;
Identify information security policies, standards, procedures, guidelines and codes of conduct;
Identify the information security roles and responsibilities necessary to design and manage an effective information security process;
Perform information security risk assessments;
Understand the information security audit process;
Interpret information security audit findings and translate them for the business;
Develop an information security awareness program taking into account organisational needs and individual learning styles;
Measure the effectiveness of awareness programs and draw up awareness reports;
Identify effective physical, technical and organisational measures to counter information security threats;
Understand the security implications of the digital economy and disruptive business models;
Understand the security risks associated with cloud computing, big data, IoT and robotics;
Understand the fundamental principles of resilience management.
What are the benefits of an S-ISP certificate?
An S-ISP certificate allows you to demonstrate core competencies employers look for in aspiring information security managers. With security jobs on the rise and a worldwide security skills shortage, earning an S-ISP title is a unique opportunity to launch and enjoy a rewarding career in a constantly expanding field.
Information security jobs can be found in every sector, from healthcare to financial services and public administration. As technology develops and security threats evolve, organisations are increasingly looking for professionals who can ensure their security and continuity.
The growing demand for security expertise is leading to better salaries for information security professionals. According to itjobswatch.co.uk data, information security positions featuring ISO 27001, risk management, ISMS and GDPR skills as core requirements, attract a median annual salary of £60,000.
The course and the certificate are ideal for you, if
You are a system or network administrator, programmer or security analyst with ambitions to start a career in information security or cybersecurity management;
You seek to pursue a career as an information security auditor, consultant, risk manager or compliance officer;
You are a manager and you would like to understand the role of security to support it at the organisational level.
How to prepare for the certification exam?
We offer classroom training through our accredited education partners. To find a course in your country, visit the Get Trained page.
Download a few Sample Exam Questions here to see what types of questions you can expect at the certification exam.
Download the free Complete Sample Exam at our member site to prepare even better. Use the syllabus to get a complete overview of the exam's topic areas, and use the sample exam to practice with more questions.
How to book a certification exam?
You can take your certification exam at an accredited exam centre or online.
For more information on the exam, please refer to the SECO Examination Guide.
S-ISP certificate and digital badge
Upon successful completion of a SECO Information Security Practitioner certification exam, you will receive an exam certificate. To turn your exam certificate into a verifiable qualification that can improve your career prospects,  you need to unlock your S-ISP certification title in the (S)ECO-System, our professional community. By unlocking your certification title, you acquire the right to add the professional designation "certified Information Security Practitioner" to your name. You also receive a secure digital badge you can add to your CV, LinkedIn or digital portfolio to verify your competence to employers, clients and the professional community.
Have you already passed the exam? Unlock your S-ISP title now to give your career a boost.
Your SECO Practitioner credentials will be valid for a year. To keep your Practitioner certification title and digital badge active, you will need to re-certify every year by paying a small annual maintenance fee (€75) and reporting at least 20 Continuing Professional Education (CPE) credits in the (S)ECO-System. As a certified member of the (S)ECO-System, you will also have opportunities to collect CPE credits by attending webinars and accessing other professional knowledge resources.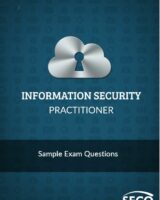 Download the free Complete Sample Exam on our member website: