Comprehensive introduction to Information Security

The Information Security Foundation certification equips you with the knowledge and skills you need to lay the foundations of your security education and career.
By passing the S-ISF certification exam and earning a SECO-Information Security Foundation (S-ISF) certificate, you demonstrate your ability to, amongst other things, adopt a holistic approach to information security, understand fundamental security and risk management concepts, describe common information security threats and counter measures and understand legal and regulatory requirements relevant to information security.
If you have a general IT background and you would like to transition to information security management, S-ISF is a sure way to set yourself on the path.
If you work with information in any other field, ISF is an excellent means to give yourself a competitive advantage over your fellow professionals and improve your career prospects.
Who is this certification for?
Career starters / switchers looking for an entry level certification in information security. Anyone that wants or needs to learn the basics of information security and fundamentals of information security management.
What are the benefits of this certification?
In a world where information is key to any successful business, demonstrable information security awareness and knowledge can considerably improve your career prospects.
How can I position the S-ISF certification in the market?
The S-ISF certification is a beginner-level information security certification. For a more advanced level we recommend you get the S-ISP (Information Security Practitioner) certification.
What skills will I be able to validate with my SECO-ISF (S-ISF) certificate?
Please review the objectives section on the program outline page.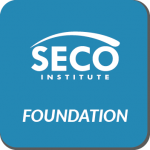 Once you are certified you will learn that SECO-Institute is more than just an examination factory. You will become a member of the (S)ECO-System. Supporting our members and lifelong learning, you will access 'Member Only' webinars and professional knowledge resources, obtain discounts on other trainings and events, and receive personal invitations for exclusive conferences, working groups and professional activities developed through our global partner network of other clusters and innovation projects.