S-SPF
Secure Programming Foundation certification
About the certificate
Core secure programming skills you will validate with your SECO-SPF (S-SPF) certificate
Secure Programming Foundation equips you with the knowledge and skills you need to lay the foundations of a thriving career as a secure software developer, software engineer or software auditor.
By passing the SPF certification exam and earning a SECO-Secure Programming Foundation (S-SPF) certificate, you demonstrate your ability to
Understand the importance of security in the software lifecycle and the logic behind industry-approved secure development principles;
Understand web application attack surfaces and trust boundaries;
Understand the workings of HTTP requests and header injection;
Understand password authentication vulnerabilities and effective countermeasures;
Understand the security implications of session management and identify effective countermeasures against session fixation;
Identify countermeasures against cross-site request forgery (CSRF) and clickjacking attacks;
Identify countermeasures against injection attacks;
Identify countermeasures against buffer overflows;
Identify countermeasures against cross-site scripting (XSS);
Identify countermeasures against file upload attacks;
Identify countermeasures against character encoding vulnerabilities;
Understand privilege escalation and list relevant mitigation techniques;
Secure products by hardening and vulnerability scanning;
Understand how to prevent side-channel attacks;
Understand how to prevent DoS attacks;
Understand the importance of good error handling practices;
Understand the security risks involved in logging;
Understand symmetric and asymmetric cryptography, Man-in-the-Middle attacks, and the pitfalls in SSL/TLS and HTTPS certificates.
Explain how security requirements can/should be identified;
Perform simple threat modelling exercises and identify security requirements for a system.
What are the benefits of an S-SPF certificate?
An S-SPF certificate demonstrates that you have an in-depth understanding of common software vulnerabilities and best-practice countermeasures. If you are considering a career in software development or software auditing, this ability is essential to set yourself on the path.
The course and the certificate are ideal for your career advancement if you are a(n)
(Aspiring) software developer, software engineer or software auditor;
Aspiring lead developer or architect;
Aspiring software development manager.
How to prepare for the certification exam?
We offer classroom training through our accredited education partners. To find a course in your country, visit the Get Trained page.
Download a few Sample Exam Questions here  to see what types of questions you can expect at the certification exam.
Download the free Complete Sample Exam and Exam Syllabus at our member site to prepare even better. Use the syllabus to get a complete overview of the exam's topic areas, and use the sample exam to practice with more questions.
How to book a certification exam?
You can take your certification exam at an accredited exam centre or online.
For more information on the exam, please refer to the SECO Examination Guide.
S-SPF certificate and digital badge
Upon successful completion of a SECO Secure Programming Foundation certification exam, you will receive an exam certificate. To turn your exam certificate into a verifiable qualification that can improve your career prospects,  you need to unlock your S-SPF certification title in the (S)ECO-System, our professional community. By unlocking your certification title, you acquire the right to add the professional designation "certified Secure Programming Foundation Professional" to your name. You also receive a secure digital badge you can add to your CV, LinkedIn or digital portfolio to verify your competence to employers, clients and the professional community.
Your SECO Foundation credentials will be entirely free of charge and valid for a lifetime.
Have you already passed the exam? Unlock your S-SPF title now to give your career a boost.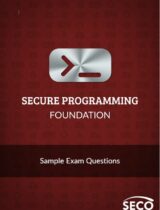 Download the free Complete Sample Exam and Exam Syllabus on our member website: