The Information Security Certification Track explained
The S-CISO | Certified Information Security Officer certification track is tailored for those who want to become an Information Security Officer (CISO) in their organisation and gain the internationally recognised S-CISO title.
Where other programmes specifically deal with technical aspects, the Information Security track focusses on the management aspects of information security and on improving efficacy of the Security Officer. The Programme helps enhance students' skills in developing, implementing and governing the information security process in their organisations.
The track consists of 3 certification exams:

Learn how to access and navigate the Dark Web safely, explore Dark Markets, and earn a professional Dark Web certificate.
The Information Security Practitioner Level is the mid-level course in the certification track.
This level aims at developing practical subject-specific skills in a 5-day course.
The Information Security Practitioner level demonstrates that you have the skills to implement and embed information security in your organisation.
The Expert Level is the senior-level course in the certification track.
This level aims at developing subject-specific design and management skills in a 15-day course.
At this level you are being thought how to act as a real CISO and how interact at board level.
In the possession of an Expert Certification, you can apply for the highest-level professional recognition: the Certified Officer certification.
In addition to in-depth subject knowledge, this certification also requires you to prove a minimum of 3 years of full-time practical work experience.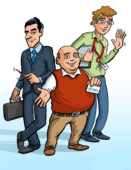 Bicsma is a fictive beverage manufacturer, a unique simulated company environment created by the SECO-Institute to bridge the gap between theory and practice. Bicsma allows us to put our stories in an authentic context, to challenge our students' problem solving skills, and to enrich our material with appealing images. Bicsma has a website, an intranet, an information security policy, a group of employees with little to no security awareness… and, most importantly, very diverse problems you can solve by employing your knowledge, talent and creativity.