S-ISF
Information Security Foundation certification
About the certificate
Core information security skills you will validate with your SECO-ISF (S-ISF) certificate
Information Security Foundation equips you with the knowledge and skills you need to lay the foundations of your security education and career.
By passing the ISF certification exam and earning a SECO-Information Security Foundation (S-ISF) certificate, you demonstrate your ability to
Adopt a holistic approach to information security;
Understand fundamental security and risk management concepts;
Understand quality improvement cycles and their importance for management systems;
Understand and apply the main objectives of information security (confidentiality, integrity and availability or 'the CIA triad');
Understand the importance and scope of influence of information security;
Understand the importance of effective information security governance;
Understand information security roles and responsibilities;
Describe common information security threats and identify effective preventive, detective, repressive and corrective countermeasures;
Describe best-practice physical, technical and organisational security measures;
Grasp the basics of information security incident management;
Understand the relationship between information security and business continuity management;
Understand legal and regulatory requirements relevant to information security.
What are the benefits of an S-ISF certificate?
In a world where information is key to any successful business, demonstrable information security awareness and knowledge can considerably improve your career prospects.
If you have a general IT background and you would like to transition to information security management, S-ISF is a sure way to set yourself on the path. The certification validates your ability to approach information security from an executive management point of view, and provides you with a sufficient basis for following more advanced security management trainings. Depending on your interests and background, S-ISF may be your first step towards a career as an information security manager, a cybersecurity consultant, or an information risk manager.
If you work with information in any other field, ISF is an excellent means to give yourself a competitive advantage over your fellow professionals and improve your career prospects. With cyberattacks and data breaches becoming more frequent, employers attach greater importance to their employees' information security awareness. An ISF certificate demonstrates to potential employers that you have a responsible attitude to information security.
S-ISF is intended for all those who have a general interest in protecting systems and networks against information security threats and raising security awareness across their organisation.
The course and the certificate are ideal for you, if
You are a system or network administrator, programmer or security analyst with ambitions to start a career in information security or cybersecurity management;
You would like to enhance your value to employers by demonstrating a high degree of security awareness;
You are a start-up founder or an SME owner, and you wish to remain competitive in a digital ecosystem.
How to prepare for the certification exam?
We offer classroom training through our accredited education partners. To find a course in your country, visit the Get Trained page.
Download a few Sample Exam Questions here  to see what types of questions you can expect at the certification exam.
Download the free Complete Sample Exam and Exam Syllabus at our member site to prepare even better. Use the syllabus to get a complete overview of the exam's topic areas, and use the sample exam to practice with more questions.
How to book a certification exam?
You can take your certification exam at an accredited exam centre or online.
For more information on the exam, please refer to the SECO Examination Guide.
S-ISF certificate and digital badge
Upon successful completion of a SECO Information Security Foundation certification exam, you will receive an exam certificate. To turn your exam certificate into a verifiable qualification that can improve your career prospects,  you need to unlock your S-ISF certification title in the (S)ECO-System, our professional community. By unlocking your certification title, you acquire the right to add the professional designation "certified Information Security Foundation Professional" to your name. You also receive a secure digital badge you can add to your CV, LinkedIn or digital portfolio to verify your competence to employers, clients and the professional community.
Your SECO Foundation credentials will be entirely free of charge and valid for a lifetime.
Have you already passed the exam? Unlock your S-ISF title now to give your career a boost.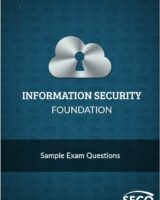 Download the free Complete Sample Exam and Exam Syllabus on our member website: