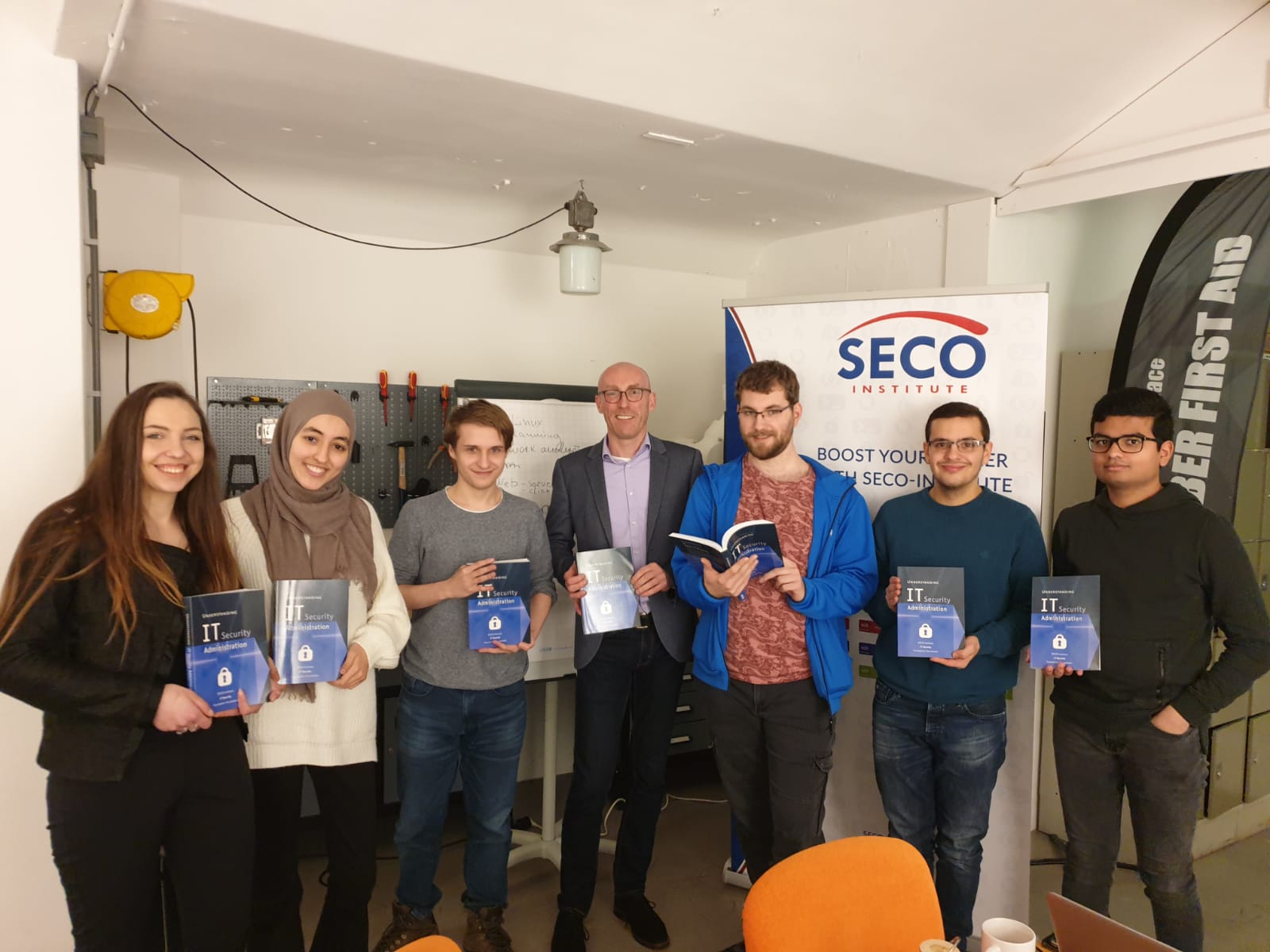 Vincent Jentjens of SECO-Institute and the students of Cyberworkplace
Vincent Jentjens, CEO of the SECO-Institute: "At SECO-Institute we have a very strong belief that there is a growing need in the world for more and better qualified Cyber Security and Business Resilience professionals. This can only be achieved by developing and offering a complete range of courses per expertise that enables professionals to educate themselves and make a career in a fast changing and growing market.
We recognize ourselves in the mission of Cyberworkplace and since it's a non-profit organisation, we like to support this great initiative with giving them a number of copies of our latest book."
Understanding IT Security Administration is a comprehensive textbook intended for all those who aspire to understand the language, processes, and tools used in IT security. It is aimed at anyone who wants to know what is involved in creating secure IT environments and lays a solid foundation that can be used as a basis to develop the skills needed to implement IT security. It is also aimed at those who need to communicate about IT security, or with IT security professionals.
Anouk Vos, chairman of Cyberworkplace: "I am very happy that SECO-institute is contributing to our mission to launch a new generation of security professionals by donating their latest textbook. "
About SECO-Institute
Security & Continuity Institute (SECO) is Europe's leading institute for highly recognised Security & Continuity certifications.
Our goal is to improve Security & Continuity through our globally recognised certifications, professional development courses and networking opportunities.
We are committed to provide IT security professionals with practically applicable knowledge and skills to safeguard the society and organisations for cyber crime
We are the facilitator of exchanging knowledge and best practices through communities of professionals and strategic partners.
 More information: www.seco-institute.org
 About Cyberworkplace
Cyberworkplace is a non-profit initiative that helps reduce the current shortage of cyber security experts in the labor market and provides much-needed 21st-century skills to tech-savvy youngsters (including dropouts/ gamers/students, who lack practical experience in their study programs).
The training/lessons given at Cyberworkplace are inspired by modern teaching methods such as peer-to-peer techniques and project-based learning.
 More information: https://cyberworkplace.tech