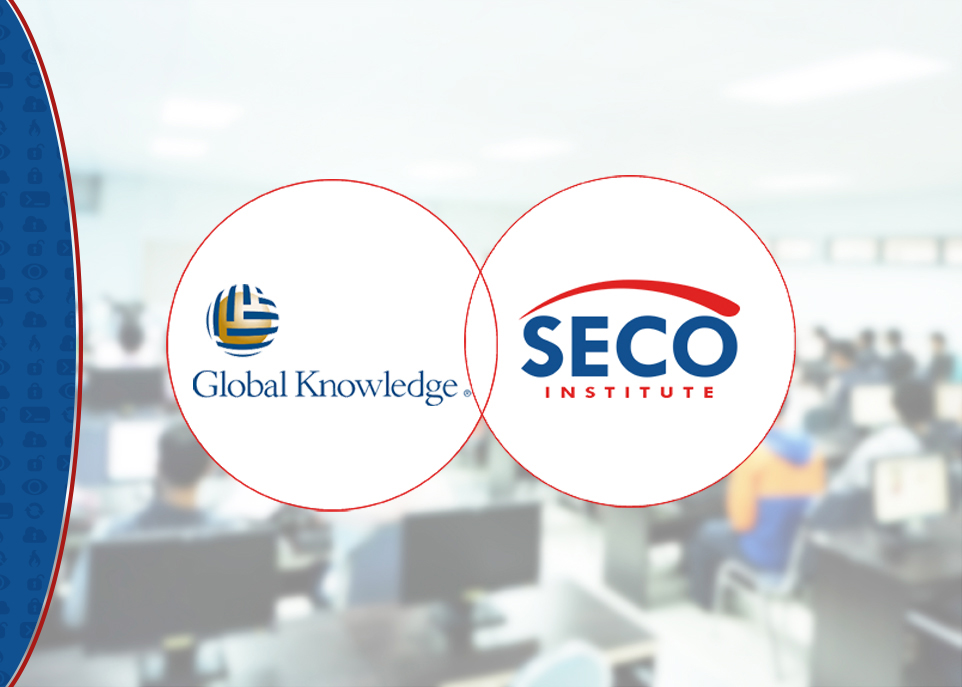 Global Knowledge is expanding her Cyber Security Portfolio with more courses and certifications of The Security and Continuity Institute (SECO-Institute). This announcement is made today by Global Knowledge and SECO-Institute.
Global Knowledge U.S.A. is already offering the full portfolio of SECO-Institute since 2018. Due to a rapidly increasing demand for certifications of the SECO-Institute in the Netherlands, Global Knowledge the Netherlands decided to expand the existing partnership with SECO-Institute by offering the full portfolio of Cyber Security and Continuity courses and certifications in the Netherlands.
'We are very proud of our partnership with Global Knowledge. It shows very clearly that the SECO-Institute portfolio is being recognised as a serious alternative for the American certifications', says  Vincent Jentjens, Chairman of SECO-Institute.
Role-based
SECO-Institute differentiates itself on the Cyber Security Market because of the unique role-based certification focus. This means that the SECO-Institute certification process is developed to train up to a specific position or role within an organisation. SECO-Institute certified professionals are able to put the aquired knowledge into practice straight away. 'In  this market, there are a lot of providers offering a quick way to get certified but that will give you the theoretical knowledge but not the required skills to put the knowledge into practice' explains Vincent Jentjens in a recent interview with Global Knowledge. 'With our focus onoffering both the required knowledge and skills in our courseware, SECO-Institute distinguishes her self as a leading European organistion on a predominantly American Cyber Security market.
Global Knowledge the Netherlands will be offering 6 tracks of the SECO-Institute portfolio. Each track will educate the professional for a specific job or position. The emphasis on educating professionals for a specific job or position, is a distinguishing factor of the SECO-Institute, according to Global Knowledge Business Development Manager Dick Goettsch. 'During the training developed by SECO-Institute, the student learns how to put the theory into practice. With the aquired knowledge and skills, the student is very well prepared for his current or aspired job or role.'
About Global Knowledge
Market leader Global Knowledge provides organisations and employees with the right knowledge with the motto: Building skills to enable success. Continuis learning, both online as in a classroom, is very important in a fast developing society. We help IT-professionals in the Netherlands with aquiring the right skills through our trainings, certifications and assessments. We're not only looking at the technical IT-skills but also at the needed soft skills. Global Knowledge is focused on assuring that you will be and stay succesfull.
About SECO-Institute:
Security & Continuity Institute (SECO) is Europe's leading institute for highly qualified Security & Continuity certifications and the body of knowledge of the Cyber Security & Governance Certification Program.
At SECO-Institute we have a very strong belief that there is a growing need in the world for more and better qualified Cyber Security and Business Resillience professionals. This can only be achieved by developing and offering a complete range of courses per expertise which enables professionals to educate themselves and make a career in a fast changing and growing market.
SECO-Institute came to existence in 2008 when the Security Academy Netherlands started to develop certification courses in Security and Business Continuity. Security Academy and started to develop an internationally recognised Cyber Security & Governance Certification Program.
SECO's mission is to educate professionals for job-specific expertise in Security & Continuity from beginner to senior level. With worldwide highly qualified training and examination partners, personal certification titles and an independent courseware development center, SECO-Institute is the European alternative for American certifications.
More information:
Please contact Tim Rook at: [email protected] or +31(0)6 3197 6336.