SECO-Institute welcomed a Vietnamese delegation in her office.
Today, a Vietnamese delegation from the ministry of Justice and the Vietnamese police visited SECO-Institute to explore the possibilities of educating and certifying their staff in the field of Cyber Security and Ethical Hacking.
The delegation flew over especially for this visit and was given a presentation of the SECO-Institute portfolio and the development of the SECO courseware and exams.
Vincent Jentjens, Chairman of SECO-Institute: "This visit of the Vietnamese delegation is the result of our strategy to expand our international activities through strategic partnerships. We will announce more international partnerships before the end of this year.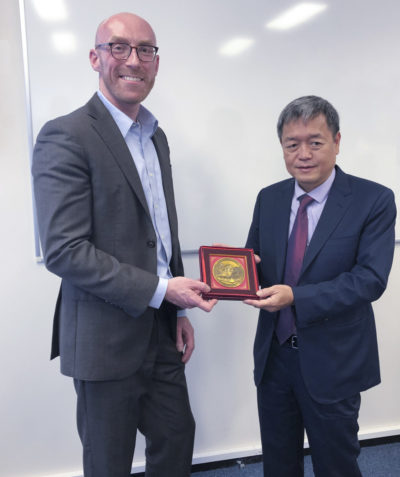 During the visit, SECO-Institute received a special Vietnamese plate as a thank you for the hospitality.
Tim Rook, Director Strategic Alliances and Partners: "The SECO-Institute has invested in an unique (S)ECO-system which enables us to develop high quality courseware, exams and to offer highly qualified training through our worldwide partner network. Recently, Indonesian lecturers received training in the Netherlands by SECO-Institute and the Security Academy in the field of Information and IT-Security and Ethical Hacking. With the acquired knowledge, these lecturers will be able to give Information and IT-Security education to students in Indonesia."
If you would like to have more information about becoming a partner of the SECO-Institute, please contact Tim Rook.