SECO-Institute is proud to announce that Johnny Gowrising received his S-BCME (Business Continuity Management Expert) and S-CME (Crisis Management Expert) title in the Netherlands.
Both titles are part of the Cyber Security & Goverance Certification Program; Business Continuity and Crisis Management tracks and are the second highest in the track.
We asked Johnny a few questions about is newly received titles.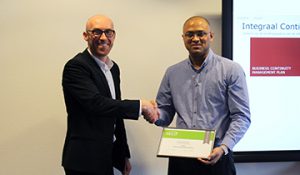 Q: What was the trigger for your organization to realize expert-level knowledge of Crisis management and Business Continuity was needed?
A:The organizations trigger to obtain expert-level was to be accurately prepared for any incident and / or crisis. Taking care of the reputation and continuity are the main tasks.
Q: Can you mention two or three reasons about why you chose the SECO-Institute certification program via Security Academy?
A: Certified teachers, very practical and the opportunity to obtain an international certification.
Q: What did you learn most from the courses?
A: Establish, organize and maintain Integrated Continuity Management has become the specialization of the two courses. Continuity Management is a management strategy aimed at limiting damage caused by the loss of the business continuity. Consider the impact of risks such as fire, severe weather, flooding, power outages and IT disruptions. Continuity Management, propose four dominant central issues; lack of staff, lack of access to facilities, lack of vital data and lack of ICT infrastructure.
Q: What did you enjoyed most during the sessions?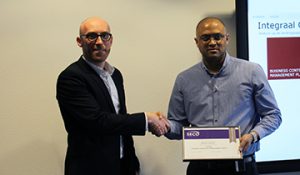 A: Pleasant atmosphere, great support and training material that meets the requirements.
Q: How did the certification help you personally and how did it help your organization?
A: For me:
Competence in the principles and practices of BCM & CM.
Participation in approved professional groups
Recognition of professional competence by peers and management.
Improved career opportunities through recognition and acknowledgement as a professional BCM & CM.
Personal satisfaction in achieving this milestone, although my next step is going obtaining the Certified Officer title.
Certification can improve overall efficiency, eliminate uncertainty and thereby improve market opportunities.
The process of achieving and maintaining certification helps to ensure that you remain continuous improvement in practice.
For the company:
It provides opportunities for professional development, promotion and recognition for employees.
Demonstrates to customers, competitors, suppliers, colleagues and investors that I / we use industry standard BCM & CM.
Demonstrates to stakeholders that our company works efficiently.
Regularly review improves responsibility, commitment and motivation of employees.
More reliable results and higher quality when BCM & CM is performed by professional BCM & CM which use industry standard techniques.
Efficiency and consistency of BCM & CM improves.
Demonstrated commitment in the field of BCM & Cm, which is increasingly recognized as a vital part of any successful project.
About the certification program
The Cyber Security & Governance Certification Program is an European initiative to improve the profession of security & continuity through globally recognized certifications and practical oriented courses, based on worldwide accepted European standards like e-CF.
Click here for more information about the Cyber Security & Governance Certification Program