S-DWF
Dark Web Foundation certification
About the certificate
Core Dark Web skills you will validate with your SECO-DWF (S-DWF) certificate
The Dark Web Foundation exam tests your real-world Dark Web skills. By passing the DWF certification exam and earning a SECO-Dark Web Foundation (S-DWF) certificate, you demonstrate your ability to:
Understand how privacy-enhancing technologies are used on the Dark Web;
Understand how onion routing works;
Install and use the Tor browser;
Find Dark Markets and hidden services;
Understand the business dynamics of Dark Markets;
Understand the fundamental principles of blockchain technology;
Understand how Bitcoin transactions work;
Understand how Bitcoin laundering works.
What are the benefits of an S-DWF certificate?
An S-DWF certificate demonstrates that you can use the Dark Web in a secure way.
If you are an IT or information security professional, demonstrating that you can navigate the Dark Web securely is an excellent way to further advance your career. In today's information security, proactively monitoring the Dark Web for potential vulnerabilities and new exploits is an essential defensive tool. In 2017 Recorded Future, a cybersecurity company, revealed that from over 12,500 disclosed vulnerabilities, more than 75 % were reported on the Dark Web before they were published in NIST's centralised National Vulnerability Database (NVD). As the Dark Web grows, there will be an increasing need for skilled and qualified professionals who can use it for threat anticipation and prevention.
For police officers and law enforcement personnel, Dark Web skills will become essential in the 21st century. As the Dark Web's user base expands, law enforcement will increasingly invest in staffing and training to combat criminal cyber activity.
IT and information security professionals with ambitions to get into Dark Web monitoring;
Police officers, line officers and detectives.
How to prepare for the certification exam?
We offer classroom training through our accredited education partners. To find a course in your country, visit the Get Trained page.
Download a few Sample Exam Questions here  to see what types of questions you can expect at the certification exam.
Download the free Complete Sample Exam and Exam Syllabus at our member site to prepare even better. Use the syllabus to get a complete overview of the exam's topic areas, and use the sample exam to practice with more questions.
How to book a certification exam?
You can take your certification exam at an accredited exam centre or online.
For more information on the exam, please download the SECO Examination Guide.
S-DWF certificate and digital badge
Upon successful completion of a SECO Dark Web Foundation certification exam, you will receive an exam certificate. To turn your exam certificate into a verifiable qualification that can improve your career prospects,  you need to unlock your S-DWF certification title in the (S)ECO-System, our professional community. By unlocking your certification title, you acquire the right to add the professional designation "certified Dark Web Foundation Professional" to your name. You also receive a secure digital badge you can add to your CV, LinkedIn or digital portfolio to verify your competence to employers, clients and the professional community.
Your SECO Foundation credentials will be entirely free of charge and valid for a lifetime.
Have you already passed the exam? Unlock your S-DWF title now to give your career a boost.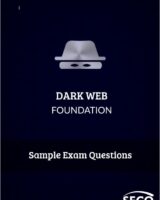 Download the free Complete Sample Exam and Exam Syllabus on our member website: